I've read a ton of non-fiction books about horror, gore, splatter, slasher, and exploitation movies and their history and directors, and this is one of my favorites.  It's put together by John McCarty, who's has written several books about movies and horror movies in particular.  The writing style is very easy to read, somewhat academic but without being boring, and there are a lot of very nice black and white photos from classic horror movies included.
It focuses on 20 directors who have made a strong mark in the horror film genre.  It was released in 1994, so it only follows their careers up until then, but let's face it- most of these director's best work was made before that point.
Read the introduction:

You can find it on Amazon for only 1 cent (plus shipping of course) here.
Some sample pages:
They also came out with a double DVD that isn't as good (it's mainly a talking head show) that you can also find on Amazon used for fairly cheap.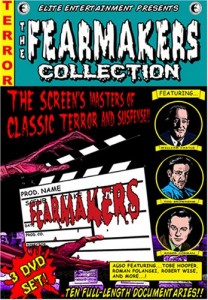 Good, cheap reads to curl up with- you can't beat that.